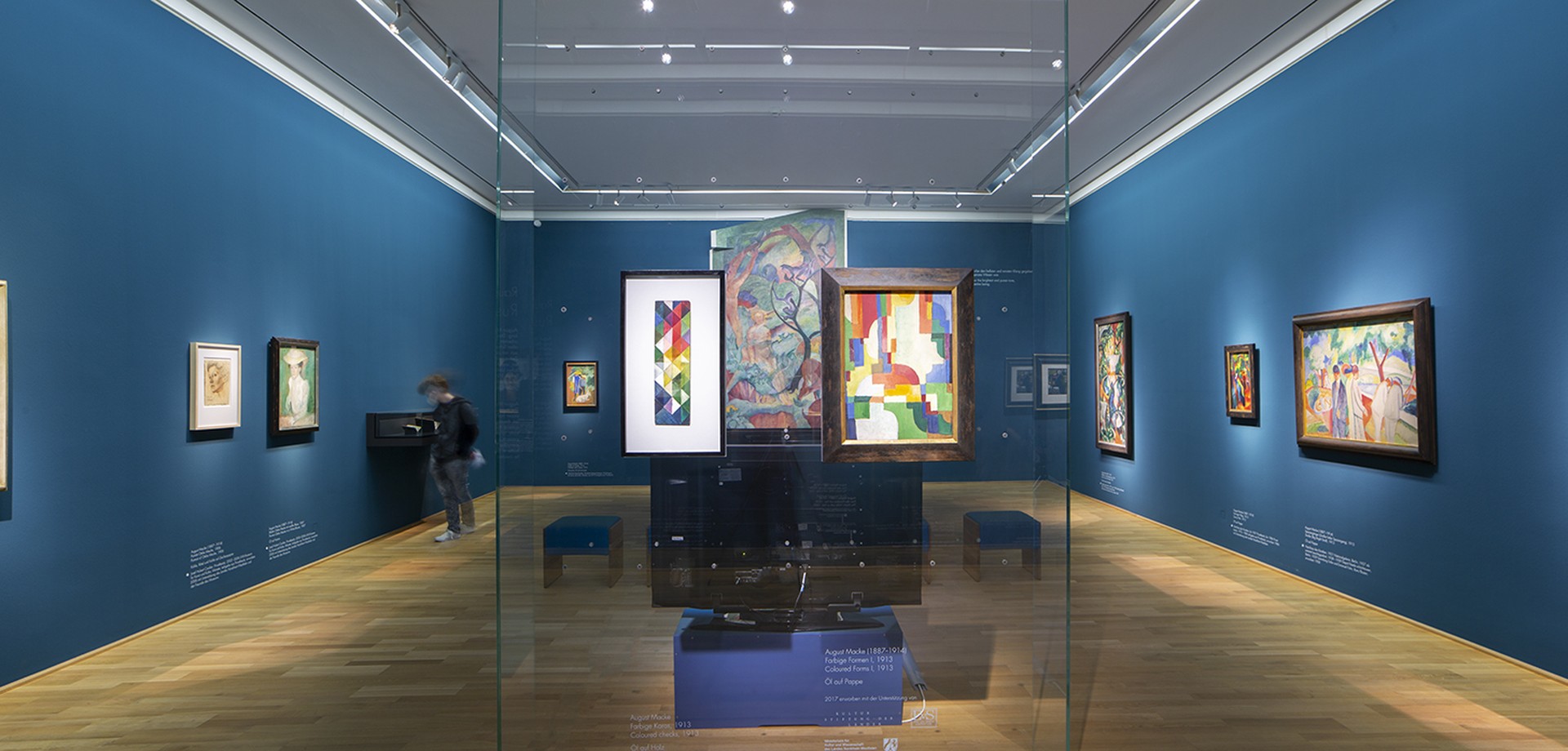 Modern Art collection
The LWL Museum boasts a rich collection of modern art, with a spectrum of styles ranging from Expressionism, with works by August Macke, to Geometric Abstraction, with paintings by Josef Albers.
Particularly notable is the rearranged Macke Room on the first floor of the old building, where you can admire prominent works by the artist figuring his family and friends, his notion of paradise, his sojourns at Lake Thun in Switzerland, and his experiences with forms and colours. The new display
concept has August Macke's major works arranged thematically. Famous works like The Artist's Wife with a Hat (1909) and Paradise (1912) evidence the changes in Macke's oeuvre. Moreover, a film made especially for the museum and screened in the new Macke Room presents details on the artist's life and work.

In 1908, the recently opened museum acquired Burchard's Garden, an expressionist painting by Emil Nolde. Still in the early phase of the museum, Art Nouveau was also represented by the stained glass windows of the atrium created by Melchior Lechter, a Münster-born artist who bequeathed his estate to the museum. And in the 1920s, works by Christian Rohlfs, Wilhelm Morgner, Peter August Böckstiegel, and Paula Modersohn-Becker and her Westphalian husband Otto Modersohn enriched the collection, thanks in part to donations from the Münster-born art dealer Alfred Flechtheim.
In 1953, museum director Walther Greischel founded the "Galerie der Moderne" and systematically filled the gaps in the Modern Art collection by abandoning the focus on Westphalian artists that had prevailed until then. This opened the door to Art Nouveau works by Bernhard Pankok and Impressionist paintings by Max Slevogt, Lovis Corinth, and Max Liebermann enriching the collection. Notwithstanding this shift, the museum also acquired further works by Westphalian members of the German Expressionist groups Die Brücke and Der Blaue Reiter. The Modern Art collection also includes works by painters of the Geometric Abstraction, such as Kurt Schwitters, Josef Albers, Laszlo Moholy-Nagy, and Friedrich Vordemberge-Gildewart, while paintings by Georg Scholz, Franz Radziwill, and Otto Dix represent the New Objectivity.
Most notable among the artists who revitalised pre-war trends after 1945 are the Informalist painters Emil Schumacher, Karl Otto Goetz, and Bernhard Schulze, as well as Richard Paul Lohse and Blinky Palermo, who created works that further developed Geometric Abstraction. The German Research Foundation (Deutsche Forschungsgemeinschaft, DFG) is funding the digitisation of August Macke's sketchbooks, which have been in the museum's collection since 1957 as part of the artist's estate.
Contact
Dr. Tanja Pirsig-Marshall, E-Mail: tanja.pirsig-marshall(at)lwl.org